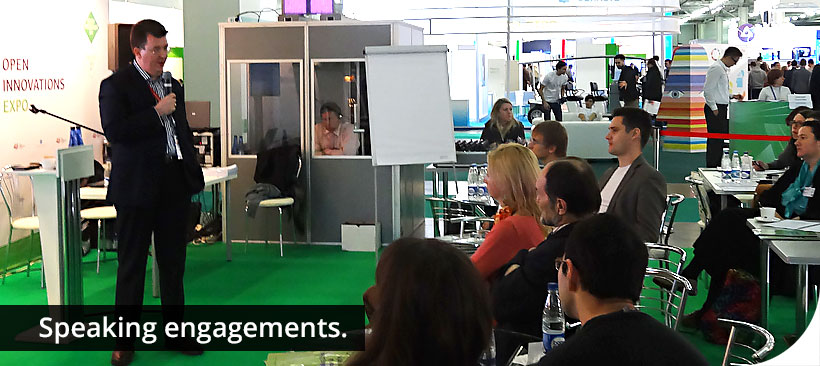 Learn how innovation works.
As a speaker, Christopher offers an innovation view with an analysts eye, insightful, professional and always well received. He is the only speaker who can draw data and case studies from 2thinknow's large data-set of global innovation economies.
And his slideshows are legendarily fun — that help reinforce the point.
Christopher's primary goal is to do good by spreading the methods of innovation.
Presentation Clients
Over many years as a speaker and presenter, Christopher Hire has delivered training and conference presentations on a variety of technology, change trends, innovation and analyst topics for government and business.
For presenting on technological change & innovation over many years, his audiences have included:
Multinationals: 3M, Kelloggs, ML, Random House
Australian Govt: Defence, Health, Industry, Meteorology & others
Banking: Commonwealth Bank, ANZ, JP Morgan, Islamic Banks, QDB, Maybank, Ambank, RBA
International Govt: British Consulate General / FCO, UAE Ministries, Reserve Banks
Law: Federal Court of Australia, law firms
Local Councils: South Sydney Council
Insurance: NRMA Insurance (IAG), Zurich Insurance
Property: Lendlease, Colliers, GPT
State Government: Revenue, Transport, Innovation, Business, Water, Electricity
Management Consultants: PWC
Sports Teams: Sydney City Roosters Football Club
Utilities: Transgrid, Origin, CitiPower
Some of the global clients for speaking are:

Speaking Fees, Costs & Locations.
Christopher is available in Australia and will travel globally. Fees are negotiated based on timing.
He has visited over 70 cities, and presented in Sydney, Melbourne, Brisbane, Dubai, Barcelona, Budapest, Kuala Lumpur, Doha, Moscow and many more cities.
Booking.
To book or enquire about Christopher Hire for your event: contact us here