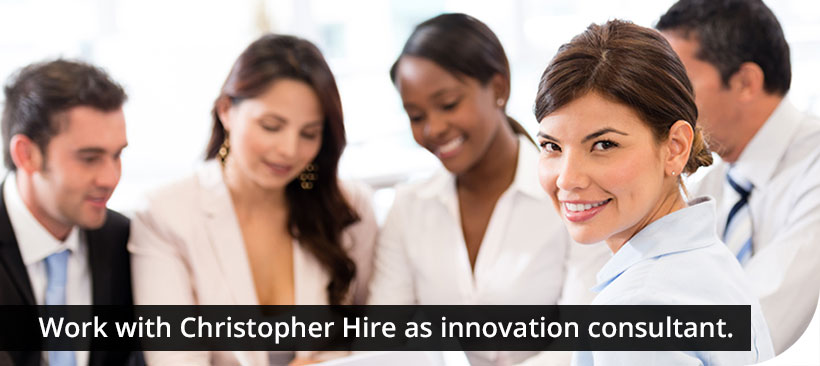 Christopher Hire can bring your organization a detailed understanding of innovation by location and by market segment.
Hire's innovation work has been featured on radio, in newspapers like the Boston Globe, New York Times, Entrepreneur, Forbes, Reuters, Financial Post, HuffPo and thousands of online and print news stories in over 45 languages. Hire is one of the very few global consultants who knows all the cities of the world, and understands that all global trade is comprised of local offices.
Innovation Expertise
Since 2007, Christopher Hire has been developing and overseeing the Innovation Cities™ Index — classifying all cities in the global innovation economy. He has also authored the Innovation Cities™ Analysis Report (order here) a basis for analysing the global innovation economy by location, and by industry and market segment. Christopher Hire is currently serving as Executive Director, of 2thinknow.
Consulting Experience

Christopher Hire has been consulting in a variety of roles since 1998. During this time, as a consultant, Christopher Hire has consulted to senior management in the following organizations:
ANZ Bank
Australian Federal Government
Catholic Education
Centennial Coal
Commonwealth Bank
Defence Dept (Australia)
Exxon Mobil
Lendlease
NRMA Insurance
NSW State Government
State Transit NSW
Toyota
Victorian State Government
Successful change projects have included innovations in finance, information technology and process change. His approach includes extensive use of infographics, analysis of data, design of systems, planning and training of change participants.
Locations
Christopher Hire is available as an innovation consultant on your projects via 2thinknow in-person or via video-conference. He is available for consulting secondment with his 2thinknow team to your organization.
Christopher is available in person in Australia, Asia, Mid-East, Europe and North America.
Working with your Innovation Consultant
When working as your innovation consultant, experience enables Christopher to both plan and communicate the change process at multiple levels of your organization. This ability ensures the success of your innovation projects, and means that clients see Christopher as both consultative and a way to think differently about their change problems. Christopher Hire has received many client rave reviews.
Booking Innovation Consulting
Please contact 2thinknow to book Christopher Hire for your innovation consulting engagements.